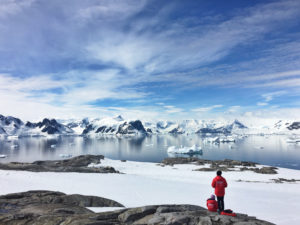 As a kid I loved imagining how to bring things out of fantasy or science fiction and into reality. I imagined, with all the physics understanding of an 11-year old, that I could create a lightsaber by making a wide laser, focussing it about 3 feet out, and running electrons through it.  I imagined that I could create a force-push by attaching a fan to my wrist and making it blow 100 mph. I think I was a little optimistic.
I tried my hand at creating something like this around age 10 or 11. An engineering friend of our family's offered to help me make a hoverboard, which I was kind of obsessed with at the time. It was a classic leaf-blower hoverboard, though I added my own touches in making it a scooter.
Afterwards, this engineering friend tried to lead me into the world of statistics and the math that eventually leads to engineering. But I wasn't interested.
I wanted to make many cool things. I wasn't interested in learning the nitty gritty details. I just wanted to make awesome things.
After that, and after I tried and failed to get other, more ambitious projects off the ground, that desire to make and build kinda hibernated. It wasn't until I began my entrepreneurial journey that I even began to rediscover it. I'll talk more about that tomorrow.