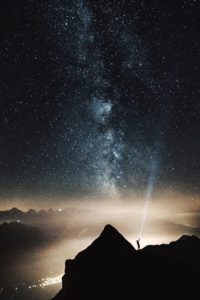 Two weeks ago ago I took a training which did more for me in removing my inhibitions and self-defeating patterns than any other single thing I've done my entire life. I let go of limiting beliefs, came to recognize and reconcile parts of me that were in conflict, and let go of old emotions that held me back.
Two weeks ago I took a course to become a practitioner of Neuro-Linguistic Programming. NLP is a style of communication that uses language to help the brain change in desirable ways. It is in principle similar to Positive Psychology, but much more effective in how it's used.
Changing Mental Pathways
As an example, over the course of the training, I identified a mindset that I often got stuck in. The feeling of Being Useless. I wanted to live more consistently in the mental state of being useful. The problem was that I had no mental circuitry that led from being useless to being useful. There was no path my brain could follow.
After an exercise drawing out the state I wanted to be in and practicing with some of the other students, I built that path I needed. It was the weirdest thing. I don't get stuck feeling useless.
That's just one example of a week's worth of revelations into how I work and how I was constantly shooting myself in the foot. And how to stop. It was an almost immediate change that I can't see coming undone anytime soon. Especially since I have many ways to back it up.
Changing a Life
But how does this change anything? Well, if you could actually let go of the belief that you are inadequate, what would that change about your behavior? If you could let go of feelings of inadequacy, and could feel confident, how would that change how your boss perceives you?
The fact of the matter is that our mental state heavily influences our behavior. NLP helps us remove the beliefs and decisions that keep us from being effective in pursuing our goals, and build momentum in the direction you want. It's really as simple as that.
I believe humans are incredible beings who use only a very small part of what they are capable of. Each of us has more power and ability to shape our surroundings if we only could see the possibility, and seize the change to create it.
When we stop holding ourselves back, we can see, we can take hold. NLP offers powerful tools to let got of many of those things holding us back.
If you're curious about my experience or about NLP, send me a message.
I'd love to talk about it with you.